8/10/2005 Wake-up at 6am, stumble half asleep into family
minivan.... hop on Southwest flight to AZ, drive to
Yapavai lodge and the Grand Canyon...
8/11/2005 Had a great breakfast at
El Tovar
a nice hotel right on the South Rim of the Grand Canyon... Most of the day afterwards we walked around the South Rim.... wonderful views... caught a sunset that night (see below)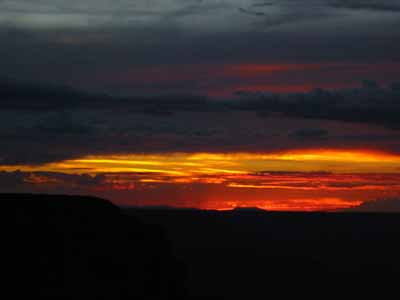 8/12/2005 Headed down towards Sedona, some more spectacular scenery...
8/13/2005 Another day of travel, heading down to San Diego... 7 hour drive... we got an early start on the day and made it to San Diego around 4:00 pm... The hotel is the
Island Palms Best Western
,
on Shelter Island right on San Diego bay..
With the marina off the backyard, and the bay and a view of downtown in the front....
8/14/2005 Checked out Pacific Beach, it has a
long fishing pier
which extends out into the ocean... Fisherman were pulling up some small sharks, surfers were off to the right catching some waves... and we spent the day in the water off to the left, body and boogie boarding.... The water temperatures were nice.. Ended the day with a great dinner at Joe's Crab Shack (I got some tasty dungeness crab) and a Dairy Queen ice cream while catching a sunset... Made our way back to the hotel and caught a nice relaxing eve in the hot tub and pool overlooking the marina.... pretty good day :)
8/15/2005
way down to mexico

8/16/2005 last day in San Diego...